Football Fever!
RWQBNFUEKD6Q
FIFA world cup is certainly the most awaited event this summer and is already half way gone with major teams including defending champions Italy being knocked out! I am happily supporting Spain, Argentina and Brazil. Apart from the sporting action itself, what really caught my attention was the COLOURS! Bright colours everywhere. While the nude colours have majorly dominated the SS 2010 ramp shows, its the bright and bold shades including burnt orange, rich green, royal blue and yellow that is dominating the football world cup. In most cases the colours that people wear are derived from the colours of the flags of the playing nation or bright in sugar candy shades with cheerleader connections. Yes, the game has strongly influenced the fashion cycle this season.
Brightly coloured faces, fancy head gears, colourful feathers, bold eyegears, candyfloss hair in electric shades, beads, chunky jewellery and hot women!
Women dressed in bright yellow, red and turquoise green frilled frock teamed with red socks performing in the opening ceremony of the tournament.
Performing artists dressed in tribal motifs in earthen shades of brown, yellow, red, blue and green.
The headgear in bright yellow decorated with beads clearly talks about its African inspiration.
Brightly coloured feathers.
Blue hair, unique accessory and lips painted in green-white-red, thumbs-up to this Italian supporter xD
Red haired Dutch supporter laughs off the sun in coolers.
Portugal supporters sporting red and green.
and… this hot German supporter!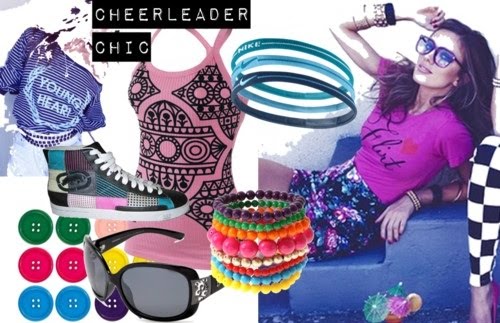 The above look is inspired from the FIFA 2010 scene comprising of candy pink vest with tribal prints, bright chunky bracelet, bold glasses, colourful sneakers.