My Wishlist – Alexander McQueen Fall/Winter 2009
Another McQueen related post! Alexander McQueen came up with highly luxurious and dramatic collection exploring the 19h century London look for his Autumn/Winter 2009 collection. McQueen's site quotes "It's small wonder with this in mind that this is amongst McQueen's most unashamedly masculine vision to date".
Runway Snaps: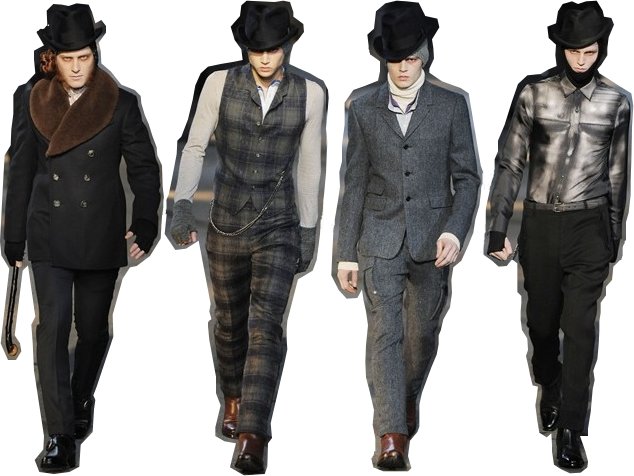 McQueen's collection reflects opulence. And that's what these outfits are meant for. Here are my favourite pick from his collection.


Accessories:
Black Ombre Sunglasses – Square frame plastic sunglasses with grey gradient lenses in grey and black.

Skull Scarf – Classic silk/chiffon skull scarf in grey and white.

Tie – Tie with rose prints in black and red.

Skull Bracelet – Sexy skull bracelet in dark silver.

Burgundy Homburg Hat – Burgundy lapin had with grosgrain ribbon and leather interior.

Camel Laplin Hat – Camel laplin hat with grosgrain ribbon and leather interior.
Shoes:
Black Broque Oxford – Black laceup oxford with broque details.

Black Tuxedo Oxford – Black tuxedo laceup evening oxford in gloss leather with stitched details and printed chesterfield lining.

Broque Boot – Black broque leather boot with elasticised sides and stacked cubal heel.

Side Zip Boot – Side zip lace up leather boot.

Laceup Combat – Brown laceup combat boot.

Riding Boot – Chestnut leather riding boot.

Jackets/Trousers/Shirts:
Look #1




Classic look! Black crombie dress coat teamed with white tuxedo shirt and black tuxedo trousers.





Look #2




Navy two button jacket and navy trousers teamed with navy/ivory twisted square print tie.




Black broque oxfords.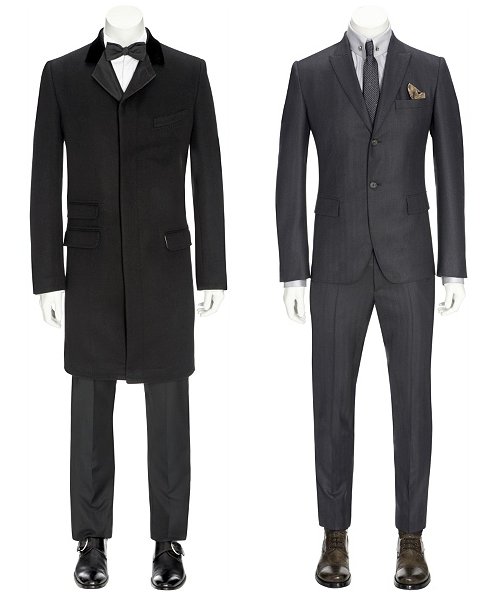 Look #3




Smart and sexy grey four button jacket with high break and quilt stitching detailing.





Look #3




Navy double-breasted felt peacoat in felt with detachable shearling collar teamed with oxfords.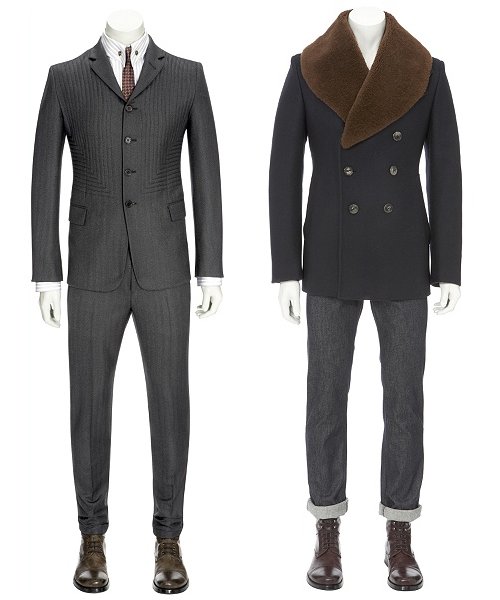 Look #4


Smart in blue. Blue gingham shirt with gusset details in back teamed with navy plaid trousers.





Look #5


White cotton shirt with silver harness details and contrast cotton strap at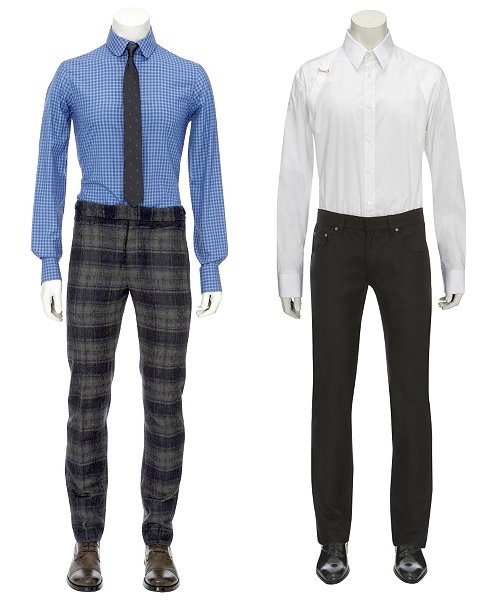 This skull t-shirt is something I wanna grab right away!! It's tooo cool!!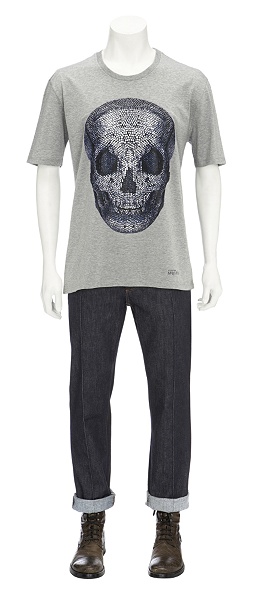 Photo Credits: www.alexandermcqueen.com
All the above products are available in the same site dated 3rd Dec 2009