More than ONE OF A KIND
Hi. How are you? How was the week end? It's pretty cold right? By the way, my wishes to Christopher Kane for receiving the best collection of the year award in British Fashion Awards. Also my wishes to Christopher Bailey and Burberry for winning the highest honour of the night. And I was delighted to see new comer Peter Pilotto to win the Emerging Talent Award. Hope I'll get there someday.. 🙂
And, now speaking about the topic, here are some trends seen in A/W 2009 and S/S 2009 shows. Can you relate their similarities??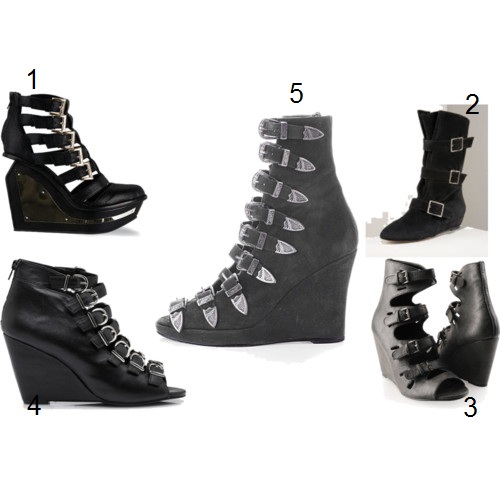 Wedges.. A big time winter trend this season. They look really hot when coordinated with balance. Here are some buckeled wedegs. You can see your self how they share the same inspiration. The 1st one is a Jerffrey Campbell wedge. Really tall and buckled with metallic details (looks like a stool..lol). 2nd one is a Loeffler Randall short wedge buckled boot. Third one is is a buckled wedge from forever21.com. And guess what it's priced at just $30! Go buy it right now from the site. 4th one is a Belgium brand. And the 5th one that stands out from the others – Chloë Sevigny for O.C. Western Buckle Wedge, speaks CLASS and QUALITY.
Items in this set:
Alexander McQueen | Floral-embroidered silk dress | NET-A-PORTER.COM, 2.685 EUR
Uttam black tulip dress, 35 GBP
Bowback Dark Tapestry Dress, 32 GBP
Florals! Once again.. they all seem to have the same inspiration in someway or the other. But, the one that clearly stands out? Yep, The Alexander McQueen's Red Rose embroidered silk dress. It looks luxurious as hell.
Items in this set:
Yves Saint Laurent Draped silk-satin dress, $1,490
WOOL JERSEY DRAPED DRESS, 1,240 GBP
Alexander Wang Draped sequined mini dress, $815
JETS by Jessika Allen Draped jersey dress, $190
Drapes.. I personally feel, both the purple ones are constructed beautifully (the 1st silk one by Yves Saint Laurent and the second on is JETS by Jessika Allen)
Items in this set:
D&G Dolce & Gabbana Velvet-trimmed military jacket, $995
Moschino – Military Jacket (Navy) – Apparel, $599
These two Military seems to have share the same inspiration again. Nevertheless, both the military jackets look chic and smart. I like the Moschino one with warrior shoulders.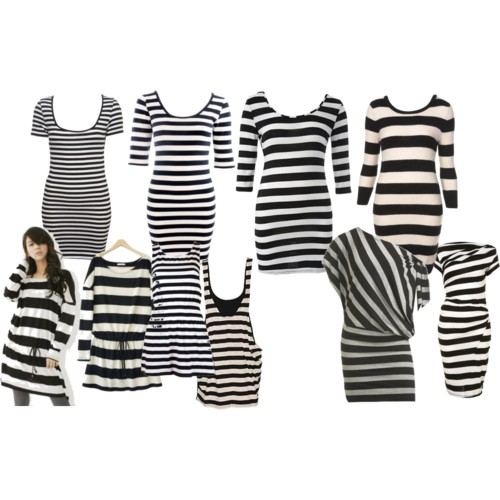 LOL! This doesn't need any explanation. Zebra stripes goes on and on. I like the black/white shapy dress in the bottom corner.