Runway Report – Stella McCartney Ready-To-Wear Spring/Summer 2010, Paris Fashion Week
Being a fashion student, I respect and look up to Stella McCartney as a designer. Ruffles were something to note about in the show. Colourful summer is all that I would love and that's exactly what Stella McCartney showcased in her ready-to-wear spring/summer 2010 collection. Giant ruffles in paint-splattered prints.
The show kick started with graceful silver ruffles, and then white and brown prints took over the ramp. It was later carried over by elegant suits, jackets, high waisted roomy pants, denim skirts and dress, loose jersey dress etc. Bold ruffles and prints like these! Joyful collection… isn't it?
Jumpsuits were roomy and voluminous. The strapless neutral jumpsuit looks brilliant.
Denim skirts and dress.
Sheer effect.
Hints of lace. Lace top tucked into voluminous khaki pants and denim skirt coordinated with jacket. The bright and bold dresses stole the show. They looked absolutely spectacular! Dresses in bright red, blue, yellow and peach.
The prints looked brilliant too. They looked like a more tidy version of the paint-splattered prints seen at McQueen's menswear show. Check out the paint splattered prints.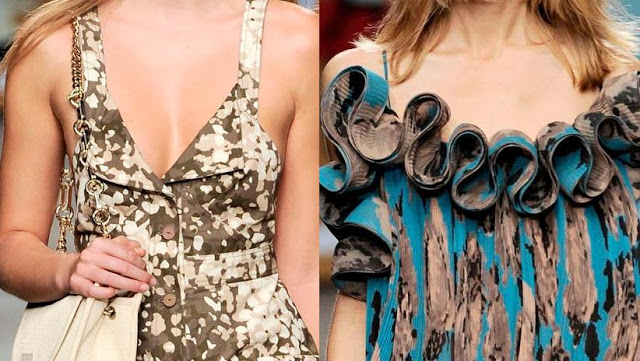 Crazy prints in dull brown and teal blue.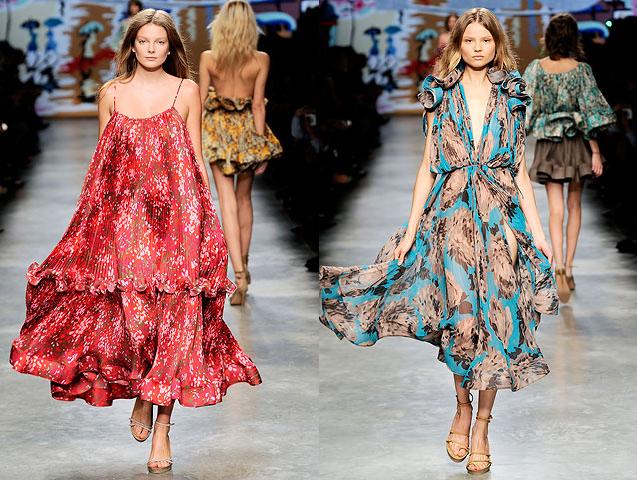 Springy printed dress with stiffened hemline and frills.
Bright pants coordinated with a structured top and a printed camisole tied at waist.