Runway Report – DSquared Menswear Spring/Summer 2010, Milan Fashion Week
BAND-AID a style statement! A sunny day out. This collection is more of outdoors or a safari kind. DSquared showcased a fun-day collection for Spring/Summer 2010 in Milan Fashion Week.This again had some wacky detailing. Lots of badges, neon shade boots, ponchos, plaid shirts, fishermen hats, trucker caps, camouflaged details, leather bags and lots more!
The collection had lots to play with colours. Every thing right from orange, cerulean, green, blue, tomato red, grassy green, khaki, sand brown, royal blue etc.
Sexy hiking boots in grassy green.
Sandals with socks.. cool or not?? Yep.. it is cool. A dream match for a sunny day out.
Bags and tins.
Tattered jeans and camouflaged pants.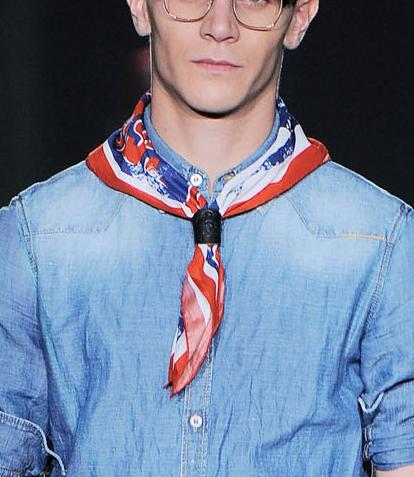 Checked pants and trousers, slim ties, trucker caps beautifully coordinated with inner wear or other details, band-aids and some beautiful t-shirt logos were witnessed.
The DSquared boys!