10 Best Dressed Celebrities: Oscars 2009
Celebrities donned beautiful designer clothes. Silk, chiffon, satin, diamonds, fancy jewellery and what not?? Following ten are my favourites. The 10 best dressed celebrities for the Oscars 2009.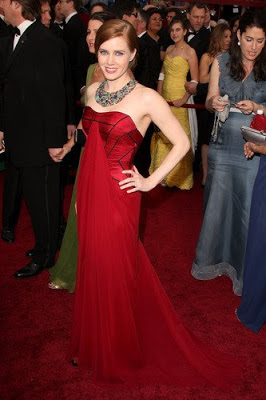 She made the heads turn with her beautiful multi-coloured jewellery. Amy Adams was sizzling in
Carolina Herrera's strapless contrast red gown. She paired it up with a multi-coloured Fred Leignton necklace! The gown black piping in the bodice with a scarf draped in front.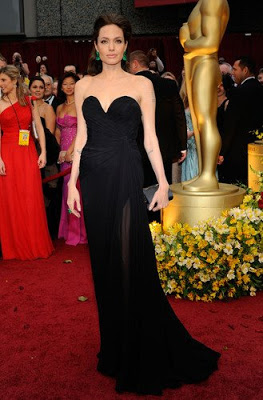 Black looked a little boring this time! Angelina Jolie wore a strapless sweetheart neckline gown. The costume designed by Elie Saab looked more dull and hidden with few pleats emerging from the neckline. But, the star cleverly accessorized the gown with beautiful green earrings. The clutch and the silhouette added to the elegance. 
And, as usual, she looked as confident as ever.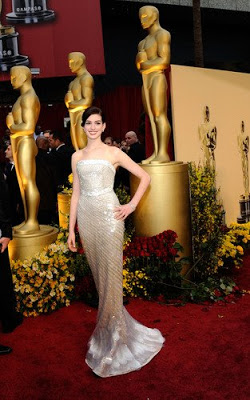 Anne Hathway wore a striking strapless sequined Armani Prive gown. The sequins which were set diagonally on the gown looked stunning and the actress herself added elegance to the beautiful fish tail gown. It's my personal opinion that a diamond necklace would have completed the look.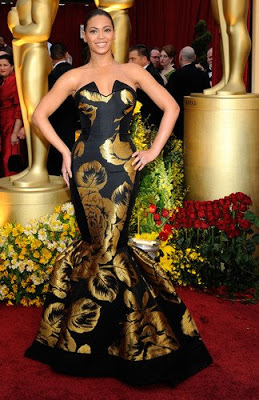 Beyonce:
She wore a black mermaid dress with large golden floral prints. Though the costume was beautifully crafted by her designer, she really didn't carry them the way it should have been.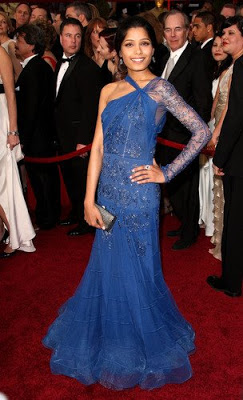 The Slumdog Millionaire star turned out in a Royal Blue coloured one sleeve gown from John Galliano. The star coordinated the outfit with an elegant clutch, beautiful earring, and Jimmy Choo "private" platform sandals. The asymmetric dress had floral embellishments in its bodice. But, what I loved the most was the way she tied her hair behind into a loose bun.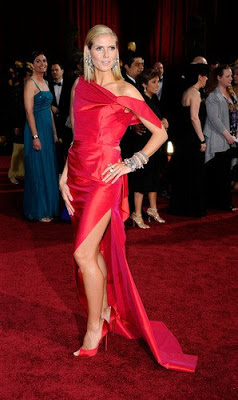 The super model turned out in a radiant Ronald Moret costume. The outfit looked stunning with neat and clear cuts. Heidi Klum paired the dress with beautiful red heels. Still… What the hell are those diamond accessories in your hand????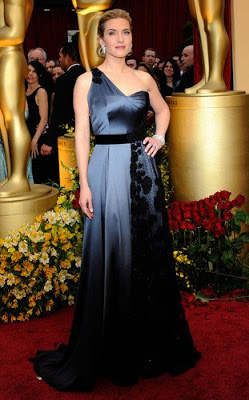 The best actress award winning star turned out in a grey to black gradient dress from Yves Saint Laurent. The waist band and the black details added glam to the look.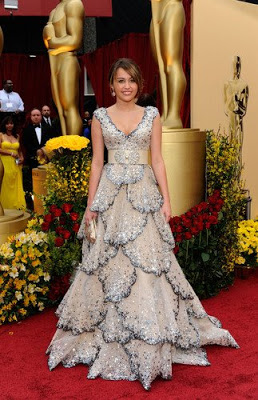 She no longer dresses like a sagging old lady! She sported a stunning Zuhair Murad gown inspired from flowers and petals. The details and silhouette of the dress looked damn pretty on the actress.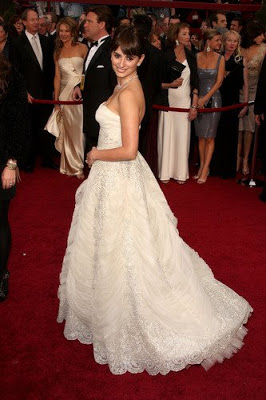 Penelope Cruz looked charming in a stunning strapless dress. The gathered skirt had beautiful patterns over it. Tim Gunn, told Penelope Cruz that her vintage Balmain was worth to be displayed in a museum. The actress later reported that this 60 years old gown was one which she spotted years ago!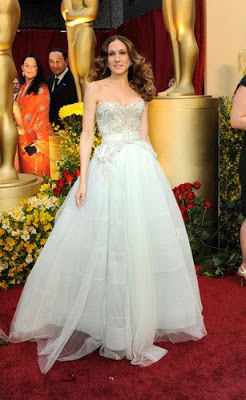 She donned a strapless Dior Haute Couture ball gown. The white dress made several heads turn, and it's beautiful bodice made sure that the eyes were still intact on the gown.