With fashion designer Raghavendra Rathore
Many people associate fashion industry with a bunch of headstrong people leading a lavish lifestyle. There are various stereotypes that can be associated with the fashion designers and editors in the industry. However, Indian fashion designer Raghavendra Rathore is one perfect example who'll otherwise make you think that such unsavory judgements are not totally true and often misleading.
I was at Vogue India's fashion's night out 2011 in DLF Emporio yesterday and got a chance to meet Raghavendra Rathore few minutes after he showcased his bridal collection. The show/presentation titled 'Blue Mantra' was attended by the likes of former Miss. Sri Lanka and Bollywood actor Jacqueline Fernandez. I spotted Mr. Rathore talking to a leading fashion editor in his boutique and the fashion designer obviously seemed quite busy midst one of the largest fashion get together in Delhi. The fashion designer generously smiled at me as I walked up to him. I had a small chat with him while my friend Patrick took this photo for me.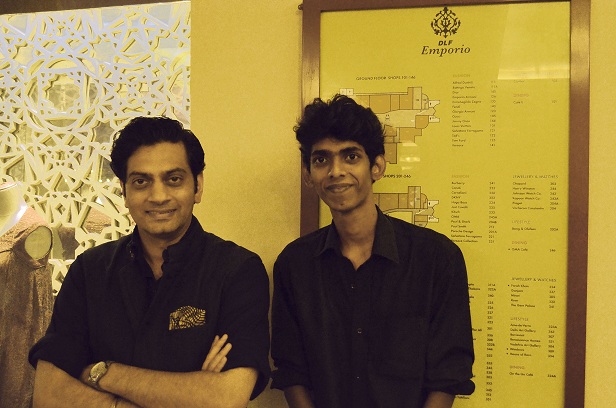 We briefly talked about 'Blue Mantra', a bridal collection which in one word, he described as "SIMPLY HERITAGE". The eminent designer also told me that the collection was targeted at every other woman present there at the event. Of course, the collection was very strong on commercial aspects with prints  and embroideries that can be directly worn off the rack.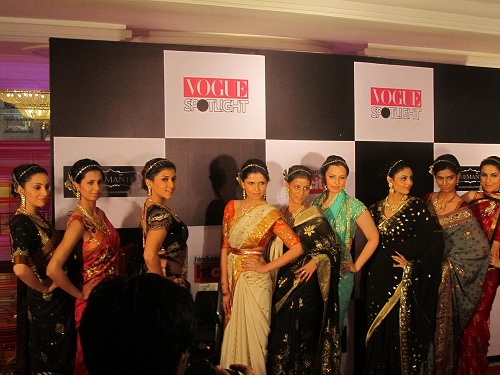 Models showcasing Raghavendra Rathore's Blue Mantra line of saris.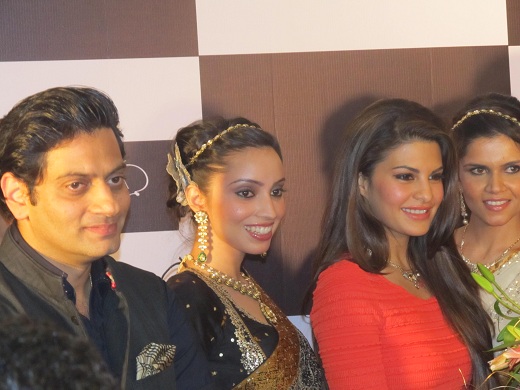 Fashion designer Raghavendra Rathore and former Miss. Sri Lanka and Bollywood actor  Jacqueline Fernandez with models.