Freida Pinto at Oscars 2009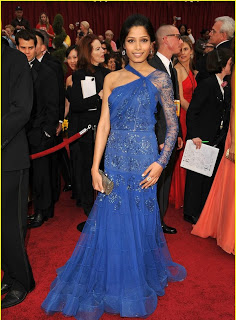 All the eyes were on her. Designers were dying to get her dressed in their outfits. She was a woman of national pride. Freida Pinto was a part of the Oscars 2009. She was one among the various A-list Hollywood actors and actress. Yeah, Freida Pinto was expected to set the Oscar's red carpet ablaze.
Freida Pinto had already become a showstopper, at the other award functions. She had earlier flaunted outfits by Moschino, Oscar de la Renta, Christian Lacroix haute couture etc.
Unfortunately, she turned up on a Royal Blue, one sleeve John Galliano gown. Without any doubt, the girl who was earlier expected to rule the show had let us down. She has definitely, gone wrong in the process of experimenting with fashion. The royal blue gown was definitely not the right outfit for the night, at least on Freida.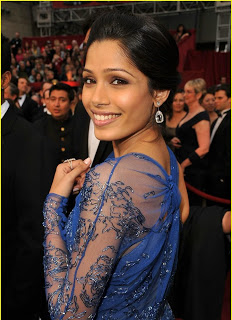 I expected her to be in an elegant sari which is the face of the India. India has numerous designers who could have designed a perfect one for the night. Flaunting ethnic Indian wear would have definitely; put her in the headlines for all right reasons.
But still, the clever girl did not turn up in complete no-no attire. I simply loved her hair-do. She also turned up with really smart accessories.
She teamed her royal blue gown along with Jimmy Choo "private" platform sandals. She also carried her clutch in an elegant manner. She wore a pair of earrings as jewellery which were simply breathtaking!
Anyway, come on girl, you've got a long way to go. All the very best.